Disaster Assistance
See what's trending in the disaster assistance industry
Travel Risk Management & Crisis Response
National Disaster Risk Assessment for Puerto Rico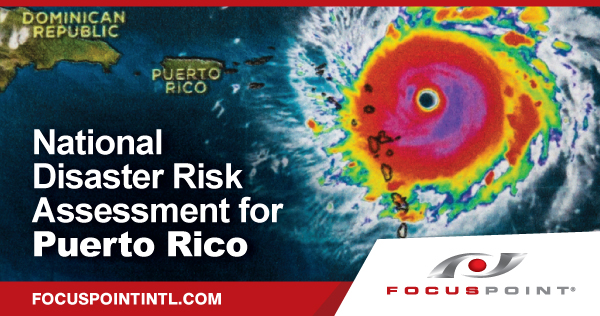 As the one-year anniversary of Hurricane Maria approaches, Puerto Rico is still struggling to recover. A perfect storm caused by the natural disaster of a major hurricane and a human-made financial crisis has left much of the island not only devastated by recent catastrophe, but also exposed to further risk.
Hurricane Maria, a powerful Category 4 hurricane with 150 mph winds, made direct landfall in Puerto Rico on September 20, 2017, battering the entire island and causing major flooding. The destruction of Maria came less than two weeks after Hurricane Irma, a Category 4 storm, passed just north of the island and left more than 1 million people without power. By the time Maria hit, 60,000 residents were still without electricity. Although Maria was a slightly smaller storm, it was far more damaging. The eye of the storm passed approximately 25 miles away from the territory's capital, San Juan, which is home to about 400,000 people. According to official government figures, Maria killed at least 1,400 people and caused an estimated $100 billion in damage, making it one of the deadliest and costliest natural disasters ever to strike the United States or its territories.
The overwhelming impact of Maria continues to be felt throughout the island, as the storm led to massive destruction of the electric infrastructure, significant interruptions in telecommunications, considerable damage to highways and roads, and limited access to water and food. In San Juan, there remains broken electrical posts, missing traffic lights, and blue plastic tarps covering damaged rooftops. Short-term power outages across the island are recurrent, and the overall situation remains much worse in mountainous areas.
Rebuilding Puerto Rico is expected to be a long and difficult process, as the commonwealth's economy is also in shambles. The territory, which has a $103 billion economy, declared bankruptcy in May 2017 with an outstanding debt of over $70 billion. Even though the FEMA Public Assistance program has allocated $2.4 billion in total funding for Puerto Rico, the Stafford Disaster Relief and Emergency Assistance Act passed by the U.S. Congress in 1988 requires power grids and infrastructure to be rebuilt as they were before the natural disaster hit.
The island has also been burdened with major public health problems. Compared to elsewhere in the U.S., Puerto Rico has the highest prevalence rates of premature births, one of the highest incidence rates of HIV, and was a focal point of the Zika virus epidemic. Moreover, the current population drain makes it even harder for the territory to recover. Since Puerto Rico's economy went into recession in 2006, the island has lost approximately 635,000 residents, and it is anticipated that another half million will leave by next year.
Puerto Rico's geographic location, along with its high unemployment, low per capita income, rising crime rate, drug activity, and other social problems, renders the island highly vulnerable to natural disasters. The territory faces an array of natural hazards, including hurricanes, earthquakes, tsunamis, landslides, periodic droughts, and flooding. Situated in the middle of the Atlantic hurricane belt, Puerto Rico is ordinarily subject to severe storms in the Caribbean from June to October every year.
Despite Hurricane Maria being the strongest storm to hit the island in 80 years, Hurricane Hugo struck Puerto Rico on September 18, 1989, causing an estimated $1 billion in damage and destroying some five thousand homes. Located near the subduction zone between the North American and Caribbean tectonic plates, Puerto Rico lies in one of the most earthquake-prone regions in the world. While the last disastrous earthquake to impact the island occurred in October 1918, inducing a tsunami that killed many residents and destroyed numerous homes, Puerto Rico experiences frequent smaller earthquakes. Nevertheless, a single major seismically related event has the potential to cause catastrophic damage and numerous casualties.
Though hurricanes constitute the primary cause of flood damage in Puerto Rico, the island also experiences floods and landslides produced by heavy rains unassociated with tropical cyclones. Puerto Rico is among the most landslide-prone areas in the U.S. due to its mountainous terrain and tropical climate. Additionally, post-disaster environmental conditions can be exacerbated due to Puerto Rico's lack of systematic health and humanitarian relief. Contaminated drinking water and reduced access to safe water, food, and shelter in some areas may create conditions for outbreaks of infectious diseases such as leptospirosis, dengue, hepatitis A, typhoid, vibriosis, Zika, and influenza.
Businesses and nonprofit organizations that currently operate or plan to operate in Puerto Rico must consider the island's unique geophysical setting and vulnerability and have a contingency plan for disaster preparedness and response in place. Careful and active consideration of the risks and costs associated with the threats posed by natural disasters can help avoid or mitigate loss. In other words, from an organizational perspective, decision-makers and managers should adopt an all-encompassing approach when addressing travel security, asset protection, movement of inventory/convoy protection, and emergency planning. By better understanding the extent of the risks involved and identifying appropriate mitigation strategies, organizations will be better prepared to deal with these disasters and lessen the impact on their businesses.
An early-season analysis of a variety of atmospheric and oceanic conditions led forecasters to predict that the 2018 Atlantic hurricane season would have slightly above-average activity. Although experts are now expecting fewer hurricanes than initially anticipated, now is the time for those in Puerto Rico to begin preparing for the next major storm or other potential disasters.
Partnering with a global security and specialty risk-consulting firm such as FocusPoint International can pro-actively help an organization mitigate risk through the development of business specific strategies, and also provide an effective response capability when faced with a crisis or emergency situation. Our 24/7 crisis response team provides access to reliable and timely sources of weather and other emergency-related information before, during, and after a natural disaster, and is specifically trained in what to expect and how to respond to a major hurricane or severe tropical storm that makes landfall anywhere in the Atlantic basin. Throughout hurricanes Harvey (Texas), Irma (Florida), and Maria (Puerto Rico) in 2017, our firm was heavily involved in providing SAR, asset and convoy protection for several clients, and demonstrated the ability to assist individuals and organizations in preparing for and recovering from the impact of these storms. (Click to view a map that identifies a variety of critical assets in Puerto Rico.) FocusPoint adds overall value by helping organizations develop policies and procedures that promote resiliency, establish business continuity, and ensure requirements are met regardless of location.